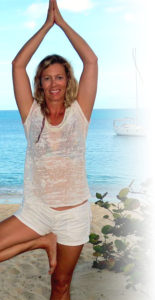 Renee Mollitt, Yoga Therapist, RYT-500, C-IAYT
I sometimes marvel at how it is that I got where I am today.  I am an artist (www.reneemollitt.com), a certified yoga therapist and yoga instructor (Yoga Alliance), a holistic health coach, mother, a  playful philosopher and an explorer of life and self.  In the past I wondered whether I was being tested by some higher power.  Now I prefer to see my life's challenges as opportunities for growth…wake up calls to help me get on with my life and set upon my path of truth.
I am passionate about yoga and became a yoga instructor so I could share with others this incredible practice and its ability to infinitely teach us something new about ourselves, our true potential and how to better connect with the world around us.
My desire to explore yoga more deeply led me to an additional 300 hour certificate training in Yoga Therapeutics. Yoga Therapy is proving to be a valuable tool for those suffering from stress, depression, chronic tension and pain and many other physical, mental and emotional challenges or for anyone wanting to enhance an existing practice.
I truly believe that the more we practise yoga the closer we come to embracing and reconnecting with our desire to be the best that we can be as individuals and the better we are able to adapt to our ever changing environments.
Namaste, Renee